Thank you so much for taking the time to read our blog. I have not made many updates lately....a bit busy but, also adjusting to having a public journal! We hope many of you will check back frequently for updates and soon lots of pictures.
We have received our Yellow Fever Shots(check.), sent off for our travel visas(check),of course we have the tickets(check)... We have been told it is better to get visas from this side, and avoid the lines and any potential challenges at the airport in Dar Es Salaam. Next we need to order Malaria pills. We have the prescription but need to call around to see which pharmacy has the better price.
The City of Dar Es Salaam is the Capitol city of Tanzania and is on the Indian Ocean, between Kenya and Mozambique. Which means it is in the south... and that means it will be hot and humid! I guess living on a tropical Island in China for 5 years and middle China for 1 year has somewhat prepared us for these conditions. :) We have read and have been told, the temperatures in the evening are considerably cooler, however still somewhat warm.While I, Deanna enjoy warm weather, James is more partial to cool climates, so for him it truly is an act of love and obedience living in China and now moving to Africa. :)
Map: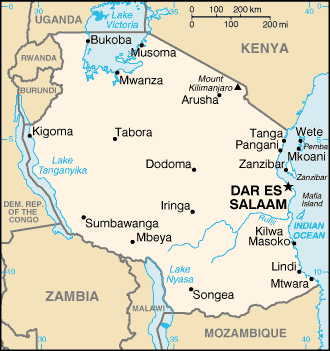 Facts you may or may not know about Tanzania:
5.6% (2009 est.)

country comparison to the world:

12



1.4 million (2009 est.)

country comparison to the world:

7



86,000 (2009 est.)

country comparison to the world:

4



degree of risk:

very high

food or waterborne diseases:

bacterial diarrhea, hepatitis A, and typhoid fever

vectorborne diseases:

malaria and plague

water contact disease:

schistosomiasis

animal contact disease:

rabies (2009)






mainland - African 99% (of which 95% are Bantu consisting of more than 130 tribes), other 1% (consisting of Asian, European, and Arab); Zanzibar - Arab, African, mixed Arab and African




mainland - Christian 30%, Muslim 35%, indigenous beliefs 35%; Zanzibar - more than 99% Muslim




Kiswahili or Swahili (official), Kiunguja (name for Swahili in Zanzibar), English (official, primary language of commerce, administration, and higher education), Arabic (widely spoken in Zanzibar), many local languages

note:

Kiswahili (Swahili) is the mother tongue of the Bantu people living in Zanzibar and nearby coastal Tanzania; although Kiswahili is Bantu in structure and origin, its vocabulary draws on a variety of sources including Arabic and English; it has become the lingua franca of central and eastern Africa; the first language of most people is one of the local languages




definition:

age 15 and over can read and write Kiswahili (Swahili), English, or Arabic

female:

62.2% (2002 census)



I will post more later time to get out the door!
These facts and links are taken from the CIA World Fact Book, you can follow the links and learn more!
Tanzania faces a great need for clean water to drink and for personal hygiene. There are many other needs to be addressed as well. We will talk about them one by one. Today it's water!
The website below has very good basic information, about the increasing need of clean water in TZ.
http://www.wateraid.org/documents/tanzaniagw.pdf
We will talk more next time, so glad to have an updated blog, and thankful you have all continued to fellowship with us!